Commercial Pilot Car
High Poles
Professional Commercial Pilot Car High Poles
Wonder Pole provides professional 20′ fiberglass telescoping high poles
for commercial pilot car companies in the escort industry.
Wonder Pole® FR Rated – Made in the USA!
---
How The Wonder Pole® Is Made
Every high pole is constructed of FR rated fiberglass built for strength and durability. Fiberglass is a safer material for use in high poles because it is non-conductive.
For over 25 years the pilot car industry has relied on Wonder Pole® high poles to safely transport high and over sized loads across the county. Because we manufacturer every part of this high pole you will always be able to get any part from our extensive inventory. We also include with every high pole order a Shock Cap for the bottom section of the height pole, a set of stainless steel security clamps, clamp key, and an extra Striker rod tip. Our new high pole striker tips do not require any special tools or assembly.

We start with longitudinal strands (high glass content) for strength, and durability. Veils are added and UV inhibitors. In addition Wonder Pole® extension poles have an FR rating (Self Extinguishing). Now comes the uniform Pultrusion reinforcement mat. We use a registered glass fiber reinforcement mat designed to provide uniform size and reinforcements along the entire pole. The mat materials we use incorporate high transverse structural properties into each pole.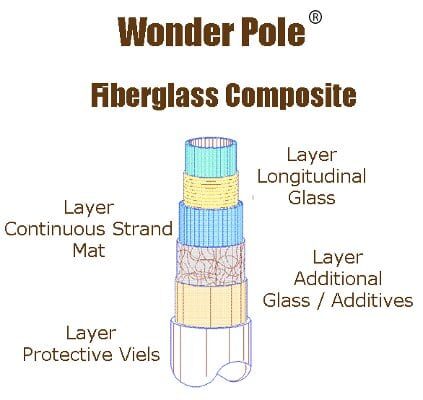 ---
What high pole drivers are saying about the Wonder Pole…
"Hello. Just wanted to let you know, I just finished a 3 day high pole job from Elizabeth NJ Ports to Bombardier in Toronto, escorting a Bombardier Q-400 fuselage using your Wonder Pole and hitch. The pole did a fantastic job, was easy to set up and take down, and the hitch was solid. The Lexan tips included with the pole did a great job as well. Nicely done. It's a great product and I've received many compliments from trick drivers and co-horts alike. Thanks again."
Chris S. – Safe Travels Professional Piloting Inc.
---
"Right Out of The Box Quality. Over the years I have used other equipment and even Home Made (Bad idea) but this pole is light, easy to set up and work and VERY Secure (NO DROPS HERE) Now I know this is why everyone tells me get a Wonder Pole ®! Over the coming year I will up date just how well it works!'
---
"That should be the new name … The Wonderful pole. Expert quality made. Could not be easier to use. Just would like to have known the two strikers included were not flexible so ordered the package of three flexible ones at an additional cost. I will try to convert the two rigid ones to a height stick. Thank you wonder pole. One of the few things these days that don't come with a head ache." Roadrunner pilot/escort Sioux city, Ia.
---
"I own a Wonder Pole that is approx. 4 yrs old bought this as a backup. Love my high Pole ease of operation and durability. Would not trust anything else .I have seen them on the road and would not trade . Thanks for a great dependable High Pole!"
Go local!