Wonder Pole®
Telescoping Fiberglass Poles
Strong, Versatile, Telescoping Fiberglass Poles
Non-Conductive, Fire Retardant, Made in the USA!
Why the Wonder Pole® is the leader in
telescoping poles for 30 years!
About Wonder Pole®
Because we have been making Wonder Poles for so long we know what goes into making a truly great telescoping pole. It starts with the design, followed by how it's made, and what materials and craftmanship is involved.
We make every Wonder Pole® in the USA. We use only the finest glass, mats, and veils available. The strength and glass like finish of our poles exceeds industry standards. We go beyond the norm to deliver you a pole that will last and last. Many of our Wonder Poles® have been in use for over 15 years, and it is not uncommon to hear of 20+ years.
Features
Telescopic non-conductive fiberglass extension pole
Non-conductive
Optional colors
Standard and custom sizes
Various sizes and heights up to 30′
Sure Grip™ handles
Meets or exceeds ASTM standards with UL940
E84 fire retardant additive.
Made in the USA
Storm Tough® strong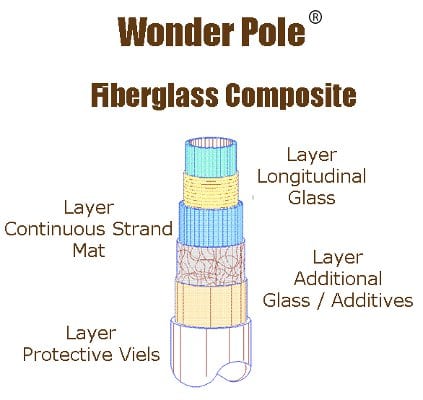 Specifications:
ISO-9001:2000 certified
FR Rated: Self Extinguishing.
Color: Bright White or Safety Yellow.
Retracts and extends in seconds
Fiberglass composite.
Mechanism: Nesting sections, transitional collars hold and grip each section.
Specifications: Meets or exceeds ASTM standards, HL/UV, E84 fire retardant.
Manufacturer: FF Manufacturing, Inc.
Production: United States
Country of Origin: United States